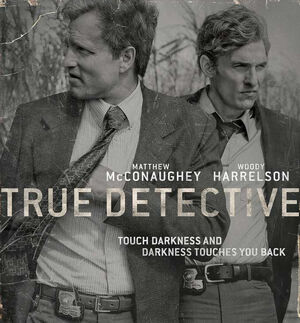 True Detective is an American crime drama television series created and written by Nic Pizzolatto. The series premiered on premium cable network HBO on January 12, 2014; as of 2019, three seasons have aired.
The series is an anthology, with each of the seasons featuring a new cast and a new case in different settings, though they all take place within the same fictional universe.
Season 1
Edit
Synopsis
Edit
The first season focuses on two detectives, Martin Hart (Woody Harrelson) and Rust Cohle (Matthew McConaughey) as they end up crossing paths while hunting a serial killer in Louisiana for 17 years. The series features multiple timelines to trace the hunt of the two detectives, jumping in time from the first case opening in 1995 to 2012, when the case is reopened.
Main cast
Edit
Season 2
Edit
Synopsis
Edit
A bizarre murder brings together three law-enforcement officers, Ray Velcoro (Colin Farrell), Ani Bezzerides (Rachel McAdams) and Paul Woodrugh (Taylor Kitsch), as well as a career criminal, Frank Semyon (Vince Vaughn), each of whom must navigate a web of conspiracy and betrayal in the scorched landscapes of California. A crime scene triggers an investigation involving three law enforcement groups, multiple criminal collusions, and billions of dollars.
Main cast
Edit
Season 3
Edit
Synopsis
Edit
Playing out in three separate time periods, the third season tells the story of a macabre crime in the heart of the Ozarks, and a mystery that deepens over decades. In 2015, retired detective Wayne Hays (Mahershala Ali), his memory failing, looks back at the disappearance of 12-year-old Will and ten-year-old Julie Purcell, recalling the days and weeks immediately following the 1980 crime, as well as developments in 1990, when he and his former partner, Roland West (Stephen Dorff), were subpoenaed after a major break in the case.
Main cast
Edit
Community content is available under
CC-BY-SA
unless otherwise noted.